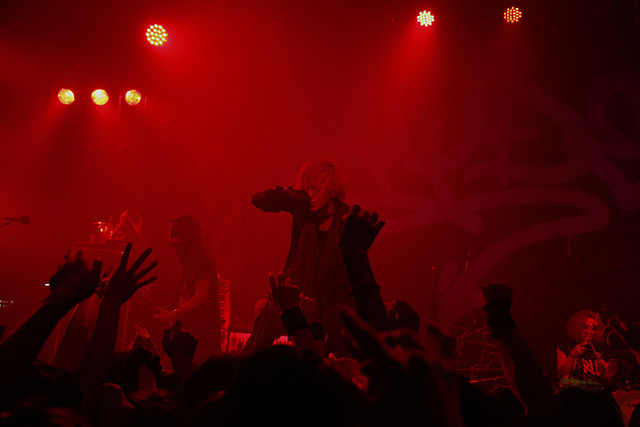 KUMAMOTO B.9 V1 1日目です。
Kumamoto performance
毎回ツアーの中のひとつをピックアップして
お届けしているこのダイアリー。
本日のピックアップ・テーマは
ズバリ「熊本公演」です。
今回のツアーでは
福岡公演4daysの中日が2日間あるということで
急遽企画された熊本公演。
なるべく熊本の地元の方に来て欲しいと
大々的に告知はせず、
シークレットライヴとして行うことに。
FM熊本さんにご協力いただき、
「FMKパンゲア!」内で
HYDEが言った合言葉を熊本B.9 V1で伝えると、
ハロウィンにちなんだプレゼントがもらえる!
というキャンペーンを行い、
実際に会場に行くと
オリジナルステッカーのプレゼントと共に
実はシークレットライヴのチケットが買える!
というシークレット企画だったのですが、
蓋を開けてみれば
発表初日に売れたチケットは3枚!?
翌日が9枚!?!? 翌々日が3枚!?!?!? ということで、
思わぬ状況にHYDEもスタッフも驚愕?
呆然? いや、もはや笑ってしまい、
「シークレットライヴ失敗につき、チケットあります」
とHYDEがSNSで呟くと、
「これはいかん!」とHYDEISTたちが大集合。
当日は見事ソールド・アウトとなりました。
みなさん、本当にありがとうございました。
ライヴ前には熊本城に行き、
天守閣がどれくらい再建されたか
その様子をじっと見つめていたHYDE。
その後、神社でお参りをし、
「早く熊本に普通の世界が戻ってきますように」
と、お願いしたのでありました。
(推測)This diary that picks up and delivers one of the tours every time .
Today's pickup theme is
Zubari "Kumamoto performance".
Kumamoto performance
which
was planned suddenly because there is a medium day of 4days Fukuoka performance 2 days in this tour .
As much as possible, if you want to come to the local people of Kumamoto,
do not announce in a big way, to
do as a secret live.
FM By cooperating with Mr. Kumamoto, if you tell the phrase that HYDE said
in "FMK Pangea!" With
Kumamoto B.9 V1,
you get a present named after Halloween!
If
you actually go to the venue, you can buy a ticket for the secret live
with the original sticker gift
!
Although it was a secret project of
opening a lid, there
are 3 tickets sold on the first day of the announcement!? The
next day is nine !?!?!? The next two days are three!!?!?!? I do not
think so HYDE and staff are amazed at the situation?
Suddenly? No, he no longer laughs,
"If there is a secret live failure, there is a ticket,"
HYDE mutters on SNS,
"This is nothing!" And HYDEIST are gathered together.
It was splendidly sold out on the day.
Everyone, thank you very much.
Before the live, we went to Kumamoto castle and stared at the
how much the castle tower was rebuilt
HYDE.
After that, I went to visit the shrine and asked ,
"As soon as the ordinary world returns to Kumamoto, come back
."
(Speculation)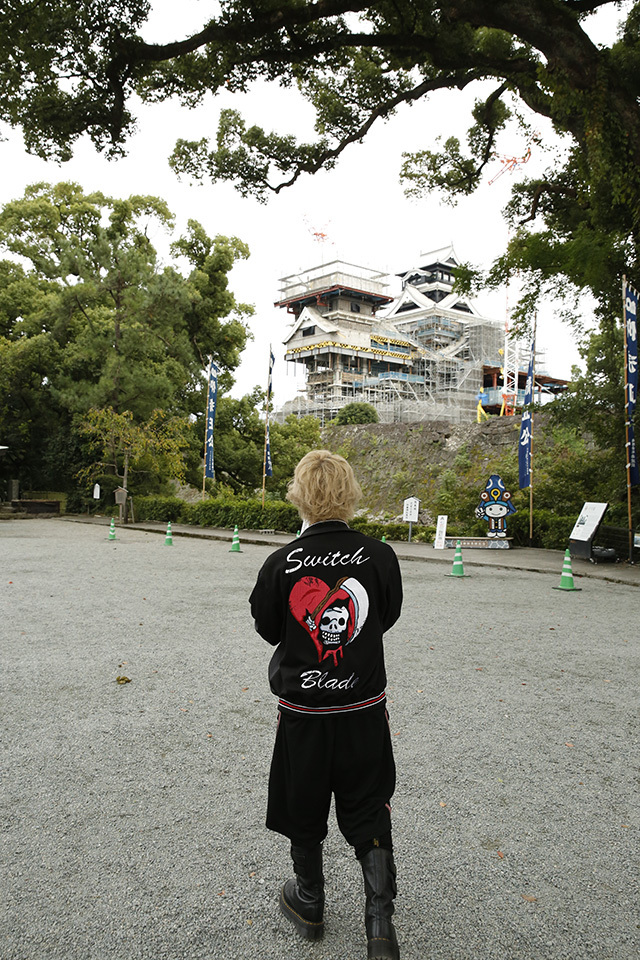 そして始まった熊本公演。
のっけからHYDEのテンションも高めで
集まったHYDEISTたちも大熱狂。
もちろんフロアも後ろまでぎゅうぎゅうです。And it started Kumamoto performance. HYDEISTs who gathered with a

high tension of HYDE from
a bat is also enthusiastic.
Of course the floor is also crammed backwards.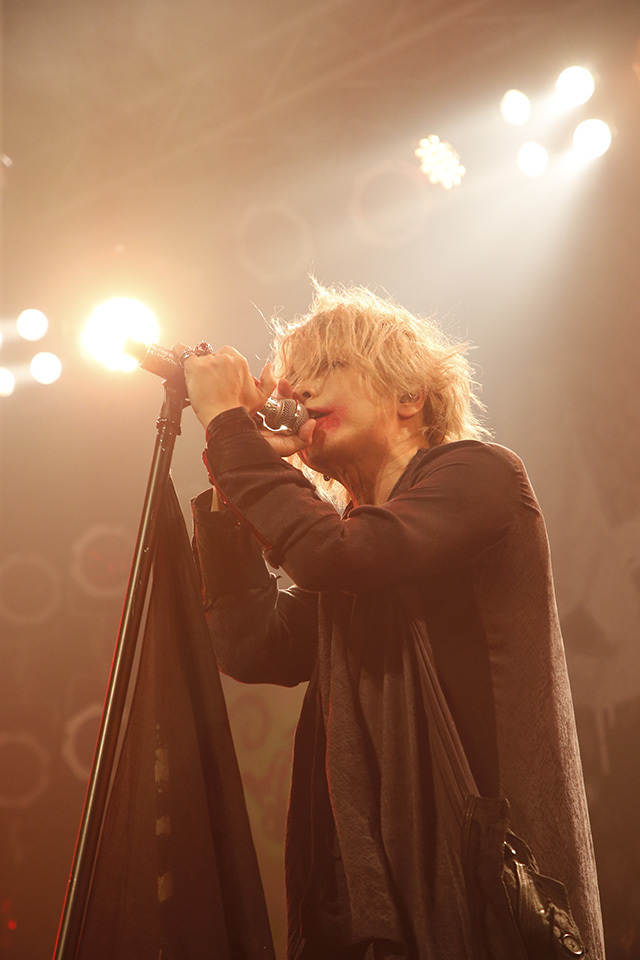 「LION」のブレイク部分では
ブラックライトに衣裳の塗料が光るのですが
羽織っていたジャケットがなかなか脱げず、
もたもたしているうちにブレイクが!
ということで、慌ててジャケットをペロンとめくり、
首を通して、ブラックライトに浮かび上がる
HYDEでありました。
ということで、「LION」の演奏が終わると
舞台監督にファスナーを開けてもらっています。In the break part of "LION"
, although the costume paint shines on the black light,
the jacket which I wore pretty hardly does not
escape, and breaks while it has reached!
So, in a panic, turning over the jacket with Peron, it
was
HYDE emerging in the black light through the neck .
So, when the performance of "LION" finishes, the
director opens the zipper.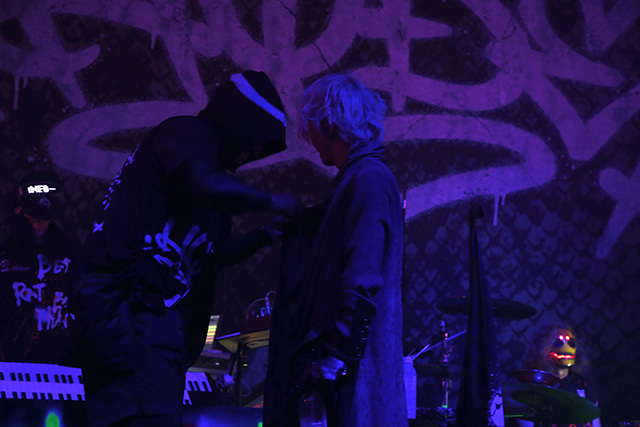 ファンにはたまらないお姿。
熊本公演なので、特別に出しちゃいまーす。An unbearable figure for fans.

Because it is Kumamoto performance, I will give it out specially.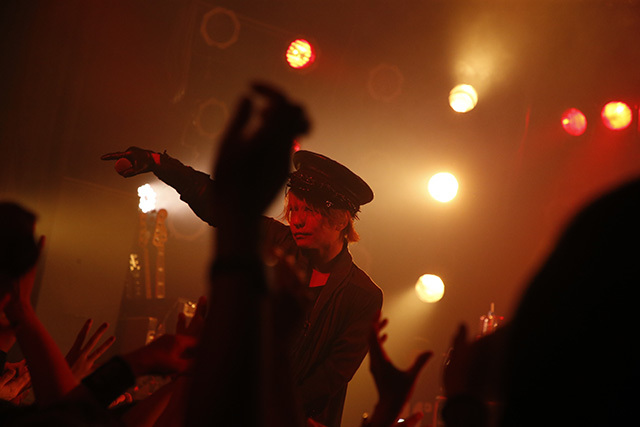 そして、熊本のことを思って作られたという
「RISE UP」では
激しいパフォーマンスで
熱い想いを伝えるHYDE。And in

"RISE UP" that it was made with thought of Kumamoto, HYDE telling hot feelings with
intense performance
.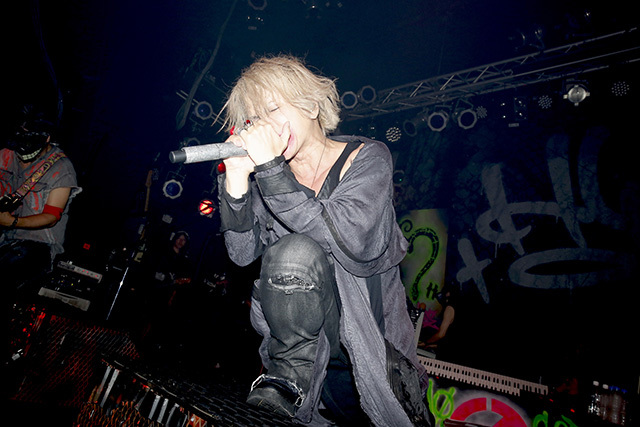 ラストを締めくくる
「ORDINARY WORLD」では
「普通の世界が一日も早く
みんなのところに戻ってきますように」
というHYDEの想いが
全身全霊で伝わってきたのでありました。In
"ORDINARY WORLD" which concludes the last, there was a feeling of HYDE that
"the ordinary world will
return to everyone as soon as possible" by
the
whole body.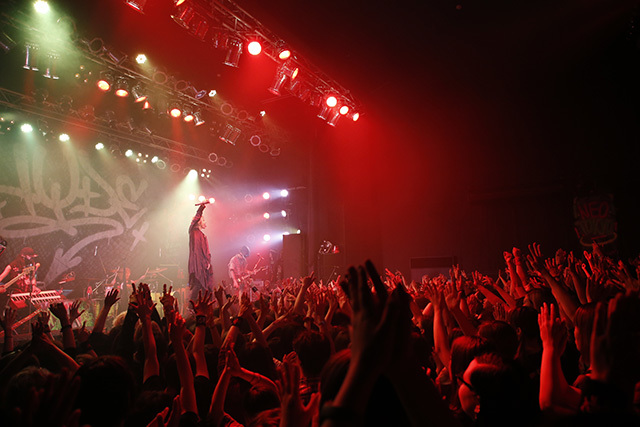 終わってみれば、凄まじい盛り上がりを見せた
この日のライヴ。
HYDEISTの愛と底力を見せつけた
熊本公演となりました。It was

a live of this day that showed tremendous excitement when it finished . It became Kumamoto performance
showing HYDEIST 's love and bottom power
.