2018.10.10 FUKUOKA DRUM LOGOS DAY 2
FUKUOKA DRUM LOGOS 2日目です。
本日のピックアップ・テーマは
「"h"ロゴ」です。
HYDEISTのロゴとしておなじみだった
"h"をかたどったロゴ。
HYDEソロ再始動にあたり
このロゴが蛇モチーフに変わって
ツアーグッズや様々な場面で登場しているのは
みなさんご存知のことと思います。
ということで、
今回のツアーではあらゆる場面で登場している
この"h"ロゴ、改め"蛇"ロゴ。
会場に入ると、壁にペインティング。FUKUOKA DRUM LOGOS It is the second day.
Today's pickup theme is
"" h "logo".
A logo
shaped like "h" that was familiar as HYDEIST's logo .
HYDE solo When restarting I think that everyone knows that
this logo has changed to a snake motif and has
appeared in tour goods and various scenes
.
So, on
this tour,
this "h" logo that appeared in every scene , reformed "snake" logo.
When entering the venue, painting on the wall.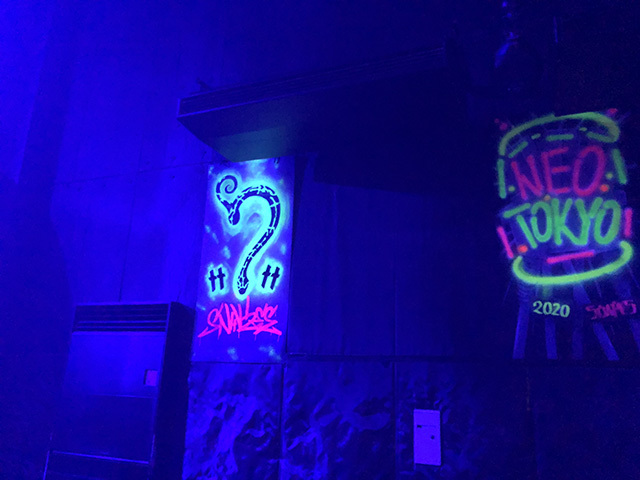 ブラックライトで光っています。
そして、バスドラのヘッド。It is shining with a black light.
And the head of the bus drum.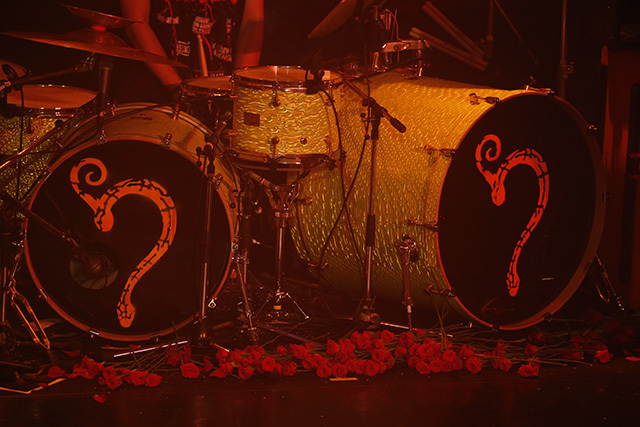 こちらもブラックライトで光ります。
そして、ベースアンプにも。It also glows with black light.
And also to the base amp.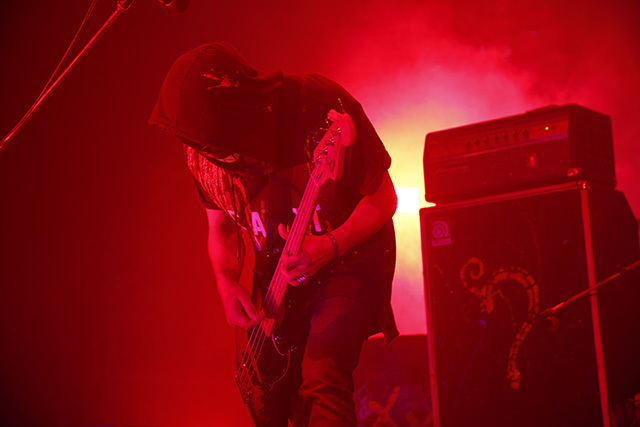 さらに、マイクスタンドに付いているフラッグも
この蛇ロゴです。
時折、くるくると巻きついて
ロゴが見えなくなるのが玉にキズ。In addition, the flag attached to the microphone stand is
this snake logo.
Occasionally,
it is scratching the ball that it wraps around and it will not be able to see the logo.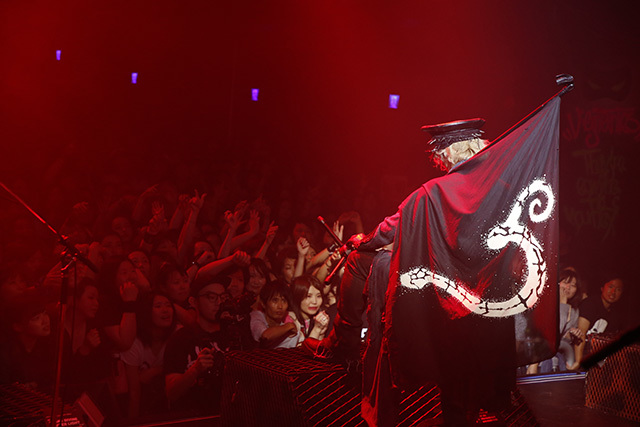 そして、HYDEが身につけているのは
蛇ロゴをあしらった
ツアーグッズのビッグネックレス。And, what HYDE wears is a big necklace of tour goods
which treated the snake logo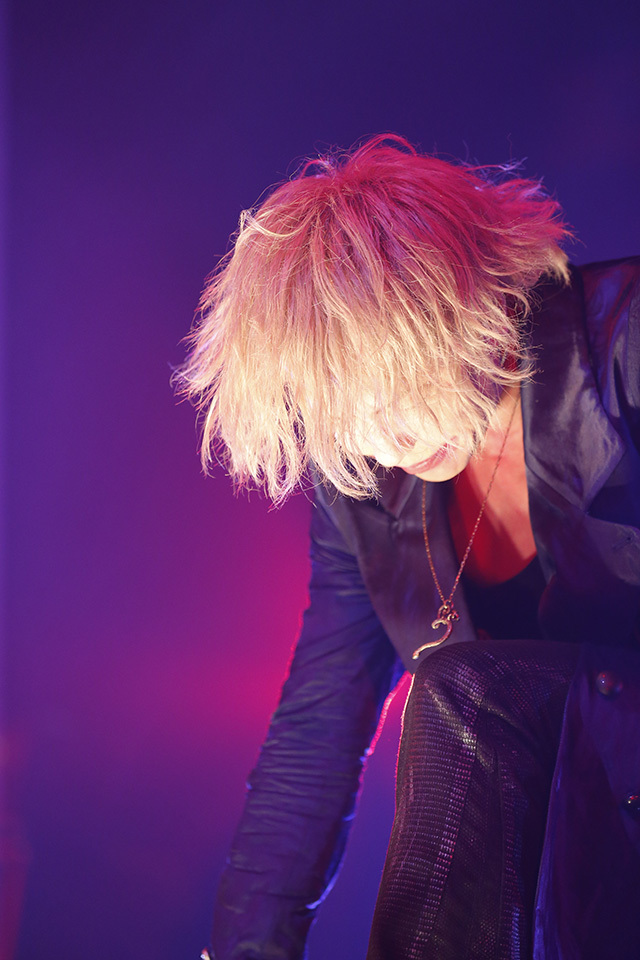 ライヴで見ると一層ステキですね。
思わずライヴの帰りに買っちゃいそうですね。
これまたお揃いですね。
そして、なかなかお目にかかれないのが
HYDEが使っているピック。It is even more wonderful to see on the live.
I think I will buy it on my way home from the live.
This is also all together.
And, the
pick which HYDE uses is not quite what I can see .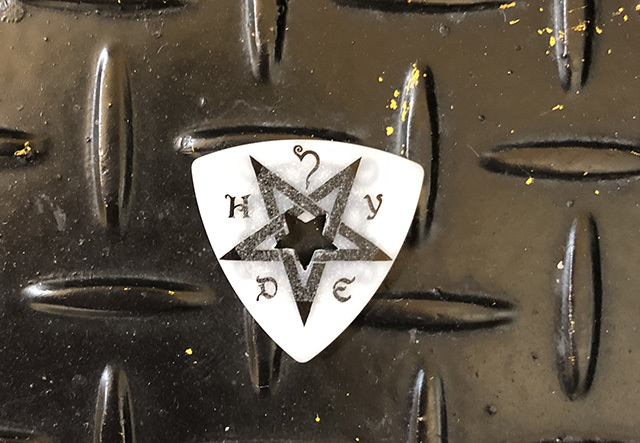 はい、小さく蛇ロゴが入っています。
今回のツアーでは
「AHEAD」でしかギターを弾いていないため
レアな一品となっております。
今回のブラックライトの演出では
蛇ロゴもドーン!Yes, there is a small snake logo.
It's a rare dish
because we only played guitar at "AHEAD" on this tour
.
The
snake logo also dawn in the production of black light this time !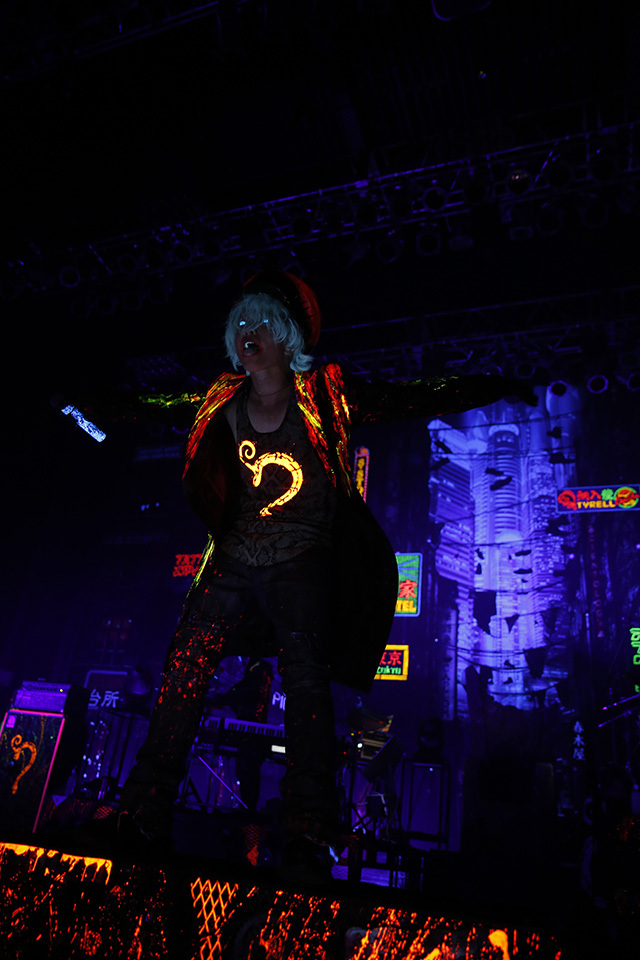 大活躍の蛇ロゴですが、
実はハートにも見える、
あたたかいロゴなのでありました。Although it is a serpent logo of a big success, in
fact it was a
warm logo that can also be seen in the heart .