2018.09.08 ZEPP TOKYO DAY 6
Today's Pickup
監獄ROCK
prison ROCK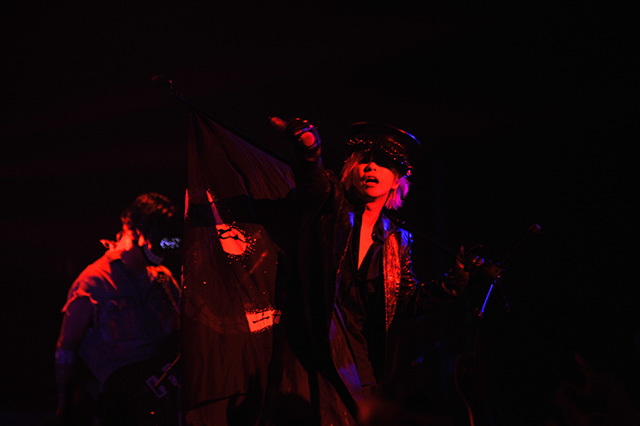 It is the sixth day of ZEPP TOKYO.
Today's pickup theme is
"prison ROCK".
This song is
a song that entered the set list from the latter half of the tour that started from September 1 and is a coupling song of the
new single
"FAKE DIVINE" released on October 24 . ZEPP TOKYO 6日目です。
本日のピックアップ・テーマは
「監獄ROCK」です。
この曲は、9月1日からスタートした
ツアー後半戦からセットリストに入った曲で、
10月24日にリリースされるニュー・シングル
「FAKE DIVINE」のカップリング曲。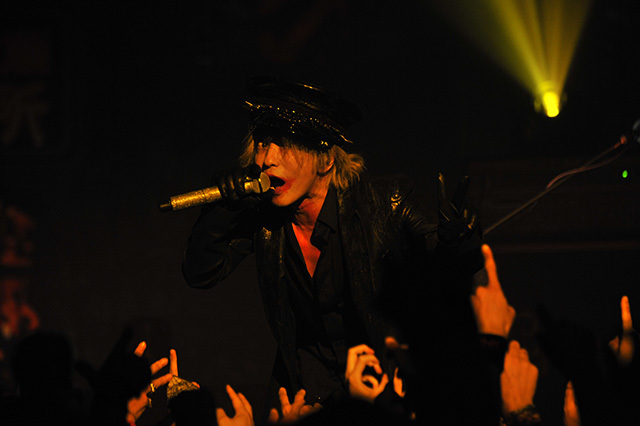 Movie "Raise the volume, octopus! HYDE newly wrote the lyrics by saying the HYDE version of the
song
"Providence for the destruction of humanity" provided to "Why do not you know what I am singing! 映画『音量を上げろタコ!
なに歌ってんのか全然わかんねぇんだよ!!』への提供曲
「人類滅亡の歓び」のHYDEバージョンということで
歌詞をHYDEが新たに書き下ろしたものなのです。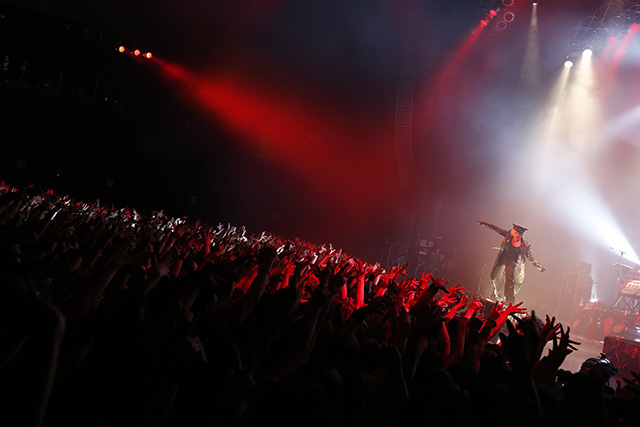 This lyrics
"I have rewritten lyrics for myself as it's a waste only with movies
."
"It's like always saying here,
please release yourselves! Let
yourself get out of prison!" As
HYDE also said in MC
, listening on live, you can go wrong It is
a song of no tension agavege.
On the first day of ZEPP TOKYO , HYDE was worried about whether to make the
title "JAIL" in English or
"prison ROCK".
As the
overwhelming majority who threw it to everyone in the venue, it was decided to "prison ROCK". 「映画だけではもったいないから
自分用に歌詞も書き直しました」
という、この歌詞。
「いつもここで言ってるようなことです。
自分を解放してやってくれ!
本当の自分を監獄から出してやってくれ!」
と、HYDEもMCで言っていた通り、
ライヴで聴くと、暴れずにはいられない
テンションアゲアゲの曲なのです。
ZEPP TOKYO初日には、
タイトルを、英語で「JAIL」にするか
「監獄ROCK」にするか悩んでいたHYDE。
会場のみなさんに投げかけたところ
圧倒的多数で「監獄ROCK」に決定。
In the live MC,
you can not say the title of the movie by all means,
"Volume raising octopus this bastard"
"Volume raising octopus, this bastard fucker"
"Volume Octopus ... ... raising ... octopus"
"Volume raising, octopus sound heard as raising Hey would, idiot! "
and, the birth of a variety of sound octopus title,
the following is what rare title pops out
had been made with you the secret enjoyment of fans.
(※ For everyone involved in the movie,
please forgive me because it is not bad)
So that's why it is so exciting that I can not think of a new song on the live .
It is a nice feeling
to raise a fist with "Yeah! Yeah!" From "♪ Takeover - Momo - Self - ~ ~" ライヴのMCでは
どうしても映画のタイトルがうまく言えず、
「音量上げろタコこの野郎」
「音量上げろタコ、この野郎バカ野郎」
「音量タコ……上げろ……タコ」
「音量上げろ、タコ。上げねえと聞こえねぇだろ、バカ!」
と、様々な音タコタイトルが誕生し、
次はどんな珍タイトルが飛び出すか
ファンのみなさんの密かな楽しみとなっておりました。
(※映画関係者のみなさま、
決して悪気はありませんのでお許しください)
ということで、ライヴでは
新曲とは思えないほどの盛り上がり。
「♪取ぉり〜もど〜せ〜自分を〜〜」からの、
「Yeah! Yeah!」と拳を振り上げるサビは
なんとも気持ちいいですね。
.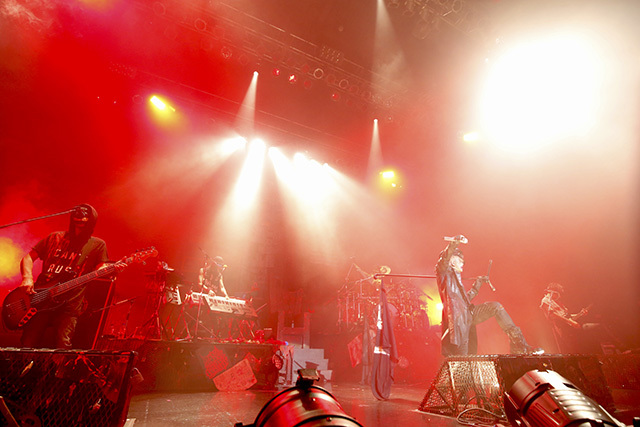 This song without doubt that it will be exciting still more in the future .
Once you hear it once it is a song that will be
played so everyone,
please release the mind and body and get excited!
Yeah! Yeah!
今後もまだまだライヴで
盛り上がること間違いなしのこの曲。
一度聴いたらすぐにノれる曲なので
みなさん、心も身体も解放して
盛り上がってくださいね!
Yeah! Yeah!