2018.09.01 ZEPP TOKYO DAY 1
Today's Pickup
Neon Signs
ネオン看板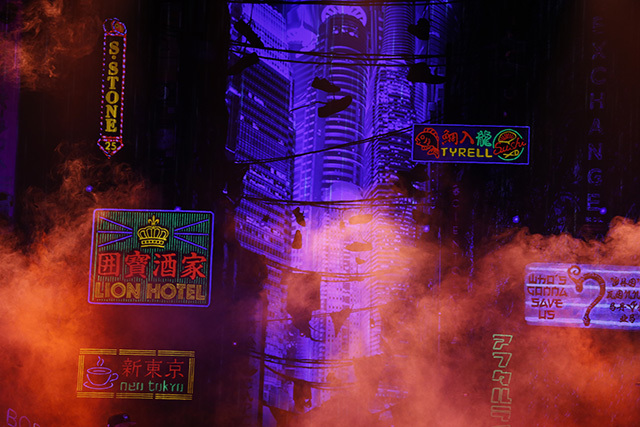 I
t is the first day of ZEPP TOKYO.
This diary
that picks up and
delivers
one of the tours every time
.
Today's pickup theme is "Neon signboard".
This stage set is
a world created by spreading out devastated future city which was
seen also at MV
of
single "WHO'S GONNA SAVE US"
.
The set that leads to the view of the world of the movie "Blade Runner"
remembers the feeling of being lost in strange space and space, and the
high-rise building rising behind
the
alley comes closer with deep breath.
ZEPP TOKYO 1日目です。
毎回ツアーの中のひとつをピックアップして
お届けしているこのダイアリー。
本日のピックアップ・テーマは「ネオン看板」です。
今回のステージセットは
シングル「WHO'S GONNA SAVE US」のMVでも見られた、
荒廃した未来都市を全面に展開して創り出された世界。
映画『ブレードランナー』の世界観にも通じるようなセットは
不思議な時空と空間に迷い込んだような感覚をおぼえ、
路地の奥にそびえ立つ高層ビルはド迫力で迫ってきます。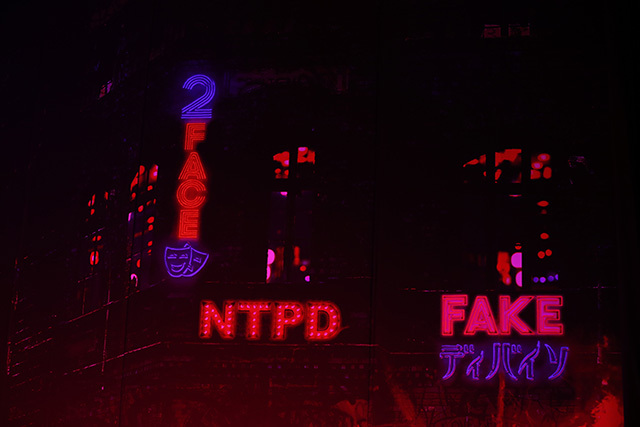 The letters of a number of signs floating in the scenery behind this alley are
all what HYDE thought.
It shines like a neon signboard, but
this is not glowing in electricity, the
UV light is applied to the entire stage and the
paint part is shining.
この路地裏の風景の中に浮かぶ、いくつもの看板の文字は、
すべてHYDEが考えたもの。
ネオン看板のように光っていますが
これは電気で光っているのではなく、
ステージ全体にUVライトが当てられていて
塗料の部分が光っているのです。
Would also be more notice of people, but
in fact this, this has been demonstrated at live
"ANOTHER MOMENT", "LION"
"SET IN STONE" "TWO FACE"
"FAKE DIVINE" "ZIPANG," such as
the new song title is hidden It is.
In addition, "AFTER LIGHT" like "AFTARLIGHT" has
words like Japanese that a foreigner mistakenly wrote, and it is
a playful packed sign of HYDE.
Furthermore,
newspapers and leaflets
stuck on the drum base or
scattered on the floor.
お気づきの方も多いでしょうが
実はこれ、今回のライヴで披露されている
「ANOTHER MOMENT」「LION」
「SET IN STONE」「TWO FACE」
「FAKE DIVINE」「ZIPANG」といった
新曲のタイトルが隠されているのです。
さらに、「AFTER LIGHT」が「アフタルライト」といったように、
まるで外国人が間違えて書いた日本語のような言葉もあり、
HYDEの遊び心満載の看板になっています。
さらに、ドラム台に貼り付けられたり
床に散らばっている新聞やチラシ。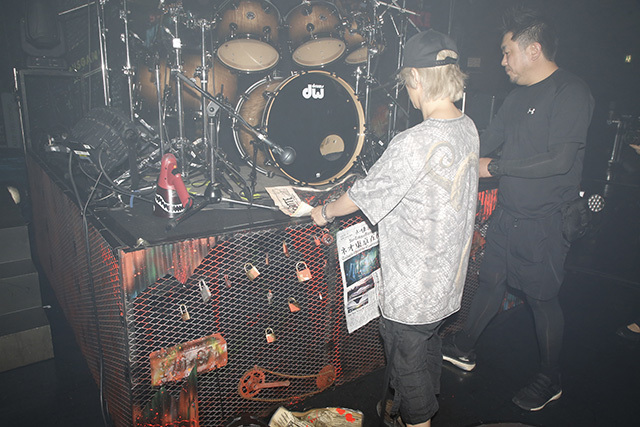 This is a near-future newspaper,
which
again was created
by a
designer from
the idea of ​​HYDE
.
これは近未来の新聞で、
これまたHYDEのアイデアによって
デザイナーがいちから制作したもの。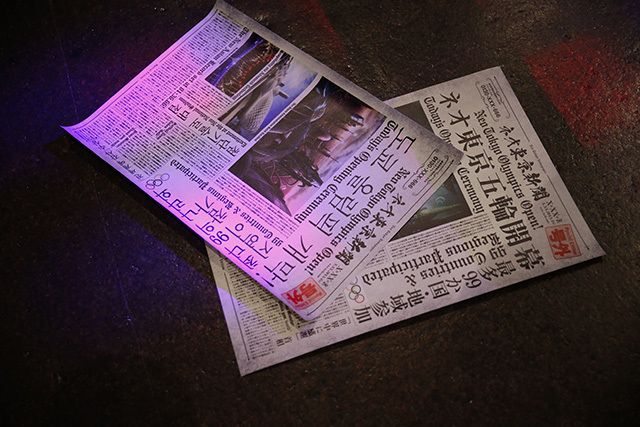 It's almost real!
Even though it seems almost impossible to see from the audience seating,
it is a hat off for the commitment of HYDE.
This staged set
which sticks to detail, has corrected the design many times, and
finally completed.
No matter how busy I am, I will never compromise,
HYDE 's attitude to spare energy and time to
embody my own imagined worldview
seems to be
solo, it seems to be increasing in purity.
So
, it is the
second half of the tour
that has
finally started.
It will still be rampage at this stage !
まるで本物です!
客席からはほぼ見えないっていうのに、
HYDEのこだわりには脱帽ですね。
細部にまでこだわり、何度もデザインを修正し、
やっと完成させた、このステージセット。
どんなに忙しくても決して妥協することなく、
自分の思い描く世界観を具現化することに
熱量と時間を惜しまないHYDEの姿勢は
ソロになって、より純度を増していっているようです。
ということで、
いよいよスタートしたツアー後半戦。
このステージでまだまだ暴れますからねー!