My next door neighbor Mary is 75 & rather amazing. She tried to carry an enormous TV downstairs, & it ended badly. She has a compressed vertebrae fracture & 27 stitches on her leg - & SHE DROVE HERSELF TO THE HOSPITAL.


She has 5 dogs & our friends in rescue were able to re-home her dogs temporarily. I'm not happy with the care she received at the hospital (the same hospital that started my surgery nightmare) The hospital was going to release her yesterday & thank goodness I arrived along with my neighbors in time to tell the hospital she couldn't be home alone. The case manager said that Mary told them there would be someone at home with her (which there isn't) so she was sent yesterday to a skilled nursing home facility while she recovers.

Mary's good friend was cleaning her house for her & took 2 of her dogs
I took some pics of them so I could show her in the hospital yesterday) They look like they miss her. She doesn't have any family support in her life, but she does have some good friends thank goodness! I will try my best to see her everyday & be supportive. I was so blessed by family when I was in the hospital, I can't imagine going through the experience alone.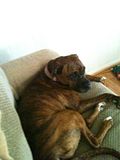 My brother-in-law who lives with us worked with Leigh at the Elevator Company. (Leigh & my brother used to own it but sold it to another company) came home yesterday to say he was fired - and for a totally bullshit reason. The company also moved the office from here in Michigan to Ohio (where their headquarters are) - I thought it was to happen in September but suddenly Leigh said he had to help move yesterday. >.< I hate that Leigh will have a longer drive to work, but he's committed to work there for 3 more years.




Hyde opened his own "Twitter" on his mobile phone site. I haven't signed up for it - but saw this floating around the net - Translation courtesy of Yoko Fuji
Memories 3

I missed Blue Impulse...
VAMPS from today!

Though there is the person thinking that activity of L'Arc-en-Ciel is limited because of VAMPS,
it's not true.

If there isn't VAMPS,
there is only a gap.