Recently went to a Greek orthodox church for a Baptism & it was so beautiful & with only 2 priests singing
Leigh wasn't able to go because he was working furiously on his thesis presentation so I recorded a bit for him to hear.
The party that followed the Baptism was bigger & more elaborate than my wedding



We were urged to leave the Church quickly as there was an unexpected event to follow. A lovely Hindu wedding party was eagerly waiting to gain access - it seems their original venue was under construction. I wanted to take a photo everyone looked so amazing, but since I didn't know them I refrained.


Speaking of Greek things - I had a pleasant Easter dinner at my brother's house. Martha Stewart would approve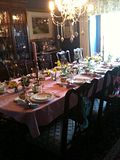 Leigh's Doctoral thesis presentation was given the "green light" by the committee at Lawrence Tech Univ. His thesis is on Hemp composite strength using neural network (or something to that effect) I can't wait until I officially can call him Dr. Leigh -

This is a model that Leigh created but never used (he scrapped the idea) but I think he should use it as a display - it looks rather like a prop from Dr. Who, doesn't it?