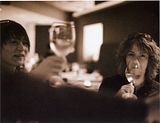 Yesterday I went to a Retirement Recognition of service at RESA where I've worked since 1978. Since I haven't been working since 2006, I was a bit surprised to be included in the ceremony. My lovely co-worker
rakshi aka, Queen of LoTR fans (at least in my book!) was also recognized, so that made it even more awesome. I was so touched by the lovely memory book they gave me, with photos of coworkers & personal notes from them. A $100 Macy card was quite unexpected as well~!

I also received my official disability retirement approval a few days ago.