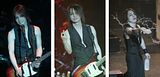 *0* Thanks to Youyou bbs for the Yahooauction pic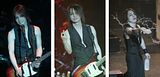 1. Your LiveJournal name and what it means?
Besides being a somewhat randy L'arc en ciel song, it's a drug used by the ancients to give relief from pain and sorrow. It's also a carnivorous plant. (You can guess what the 59 means =p)

2. On a scale of 1-10 (10 being most accurate) how well does your journal represent who you actually are?
I don't know if I can be objective.. perhaps a 5 or 6?
3. How much of your life do you post to LJ?
Probably too much

4. Is there anything you refuse to post about?
Yes

5. On a scale of 1-10, how interesting do you think your journal is to others?
I'd say my writing content alone 3, but Spam maybe brings it up to a 6 =p

6. Has anyone ever joined LJ because of you?
Yes!~ Shinjirarenai

7. What proportion of your posts are friends only?
25%?

8. What is your favorite interest on LJ?
Compassion

9. How often do you post in communities and did you ever start your own?
Not often - I post more often on outside lj sites -

10. How often do you respond to/comment on other people's journals?
I try to respond as often as I can

11. Do you prefer to write in your journal or read other people's journals?
Read

12. Have you ever had something mean said about you or been stalked, harassed, got into a flamewar on LJ (or did it to someone else)?
I'm not aware of it

13. Have you ever banned somebody from your own journal?
No

14. Who are your 8 billion favorite LJ friends and why?
All 8 billion of them, of course **snort**

15. Why are you most likely to add someone to your friends list?
Often because I notice a friend's connection

16. Do you automatically add friends to your journal if they add you first?
No

17. What is the most likely reason you wouldn't add someone to your friends list?
I usually don't if I look at their journal and it's Friend's only (so I can't look at it to see
what it's like) .
18. Is your "significant other" on LJ?
No
Not sure if this is question 19 or 20 the gacktd meme skips #19
Have you ever wanted to meet someone on LJ?
Yes!