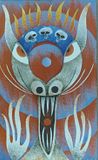 Go Me! I won't give in to the retail monster that wants me to stand outside WalMart at 5am.. >.< I chose to sleep in instead. I really loathe Holiday shopping - It's not that I don't like giving people presents, I just hate the whole ugly retail dragon that pushes it at us.

Trying to talk myself out of a blue-funk that seems to want to grab hold and take up residence ..>.<
Well thank goodness that Sally & King always help make the world a bit softer.


Some of you may find this interesting - It talks about who was popular Apr 96 in Japan..