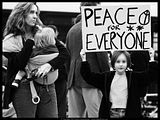 Photo credit "by Danny Hammontree"

dannyhammontree http://www.digitalgrace.com

Perhaps I'm one of the few who haven't read any of the Harry Potter books - .. so no spoilage from me.

Blah weekend, as I try to sleep IBS pain away - either that, or I swallowed a balloon. My goal is to one weekend actually wake up feeling bright & energetic.. perhaps that's asking for too much, just how about feeling a bit less lazy & stupid? *sigh* - Leigh wasn't feeling all that great either - and sometimes it is just nice to sit and watch TV while King & Sally take over the couch.