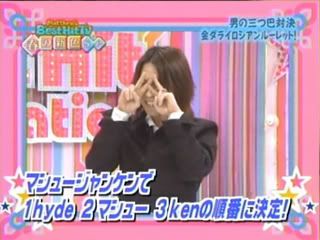 Thanks to the Lovely Eleonora at Liv's board
The Ark & Little Ark ***chu*** BayFM report. I find it rather amusing that
the concept of the JoJoushi PV was a surprise. After leaving the dressing room, Hyde was told they wanted the feel of a 'live performance' so there would be no rehearsal. Singing the song against the green backdrop shouldn't be difficult..should it? Well that was until Hyde saw 15 naked men & women on the stage.
Needless to say, Hyde was embarrassed & didn't know what to do, where to look - & his expression couldn't be lewd or lascivious... Hyde asks that we enjoy his downcast gaze while watching the PV...
haha poor hydeeee

Hyde's response to the PV plans: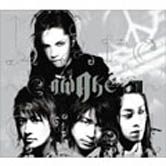 Sent packages yesterday to Mitsu & Pink .. Hopefully I had the correct address for Mitsu, since my address box has about 3 of them ....*bangs head*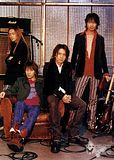 Not that I ever feel like working *oh be quiet!* but I hope they fix my email soon.