First off - big hugs & prayers out to
caffeineaddict &
mitsuchan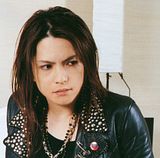 </center>
*click on thumbnails to go to larger pics*



I saw a documentary about people who were addicted to Internet porn. It didn't seem any different then any other addiction. http://www.cbc.ca/passionateeye/ocom/





Ask the 8 ball
Pray tell, is your favorite jrocker gay? Ask away... LOL (OK I'm just being silly, excuse me)





The Feb CD Data Issue came in the mail today ...