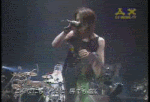 Shamelessly stolen from

misatojaganshi




Misato's version is better then mine - & check out Ken! *hides* http://www.livejournal.com/users/misatojaganshi/214738.html?mode=reply

Typical day before a holiday weekend at work, I swear Nobody is here.

>.< Leigh showed me a wedding invitation last night for a wedding we are going to this evening . *baps self in head* gahh
I thought it was in October Doh! So much much for buying a new outfit.

I can hardly bare to watch any coverage of the Republican convention. Oh but coolness, Michael Moore is Laruku fan (maybe not..lol) http://www.michaelmoore.com/

Throws out hugs and prayers to everyone who needs them..